A
A
A
Appliance
Forum Posts: 394
Member Since:
June 30, 2005
Offline
Whilst searching have found a limited edition collection of McDonald Douglas sponsored, Roy Honisett painted, images dedicated to Australia's Bicentenntial celebrated in 1988.  Entitled "A Nation born to Fly" it traces our proud contribution to aviation in both peace and war.  This would have been purchased during a visit to the Museum at Bankstown airport in 2004.  Hope you enjoy. 
Outer Folder …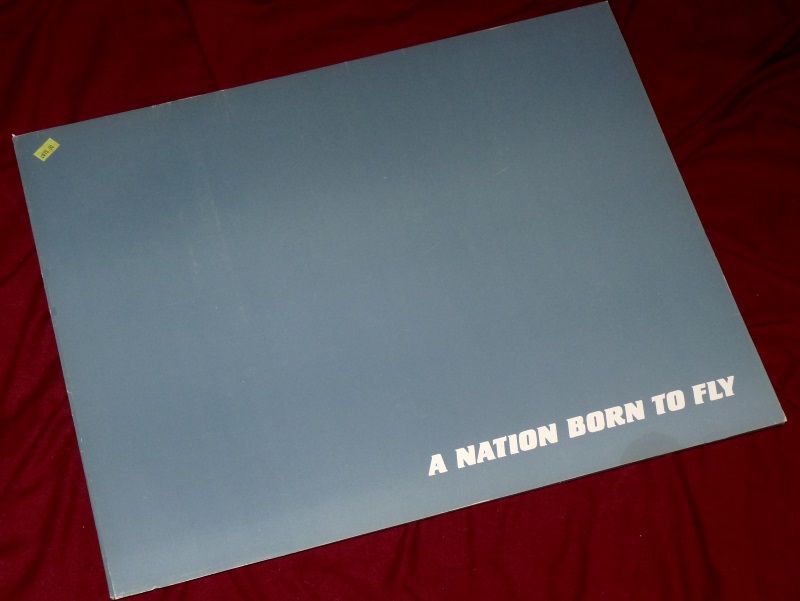 Inside sleeve …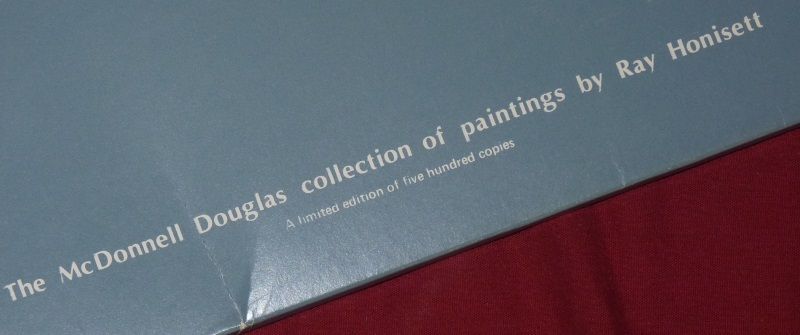 Explanitory booklet …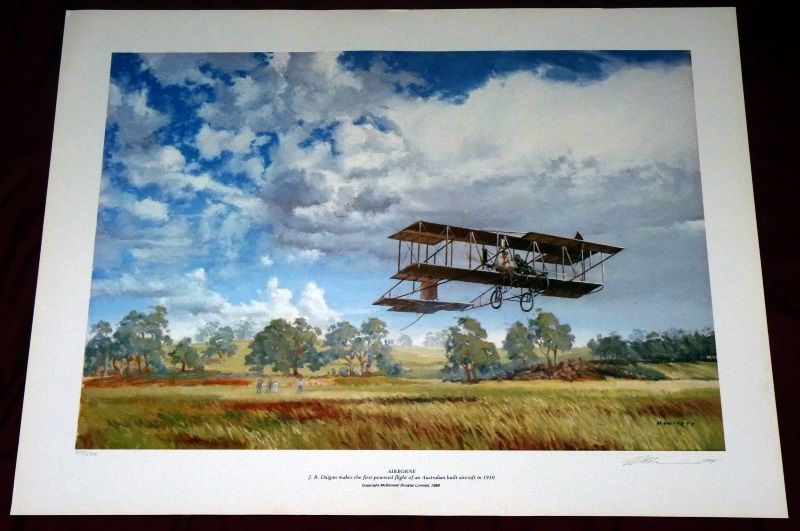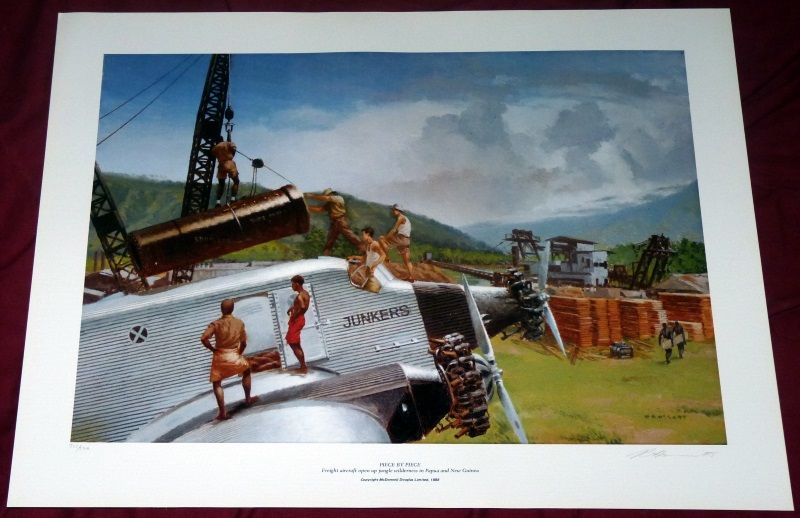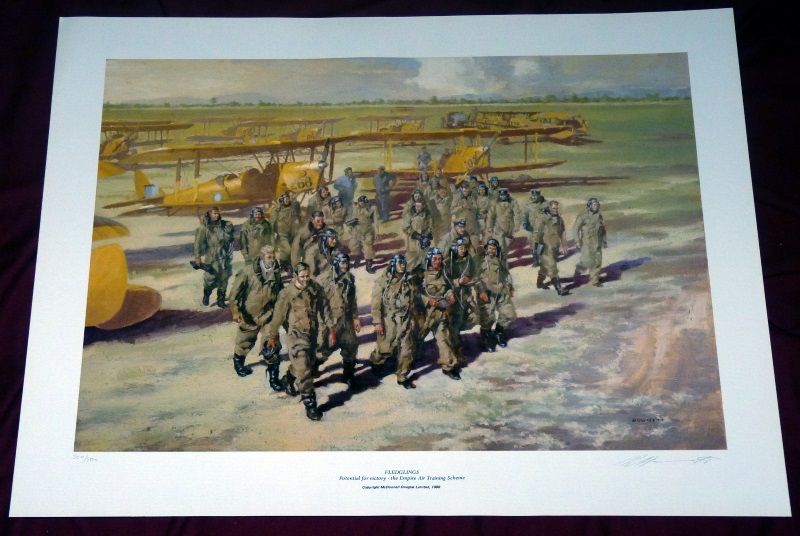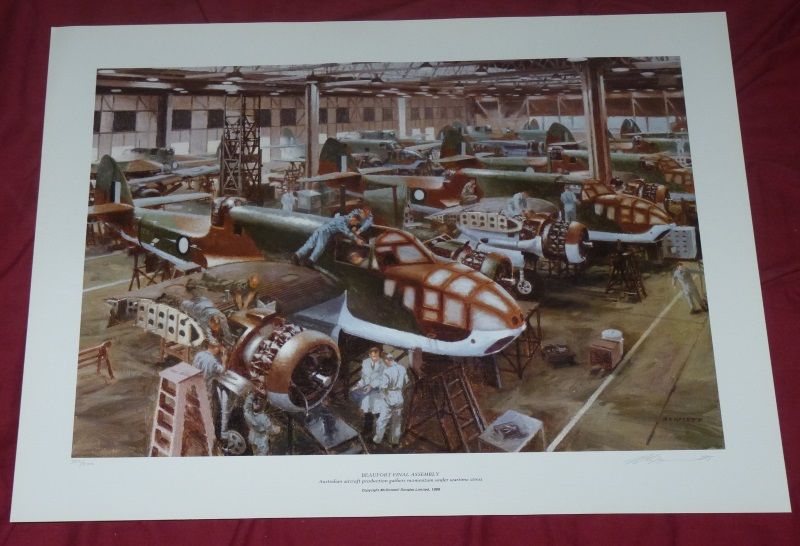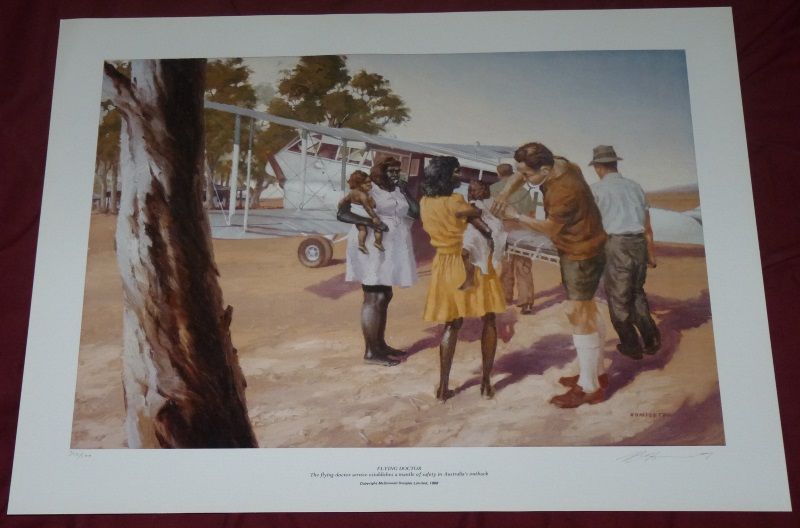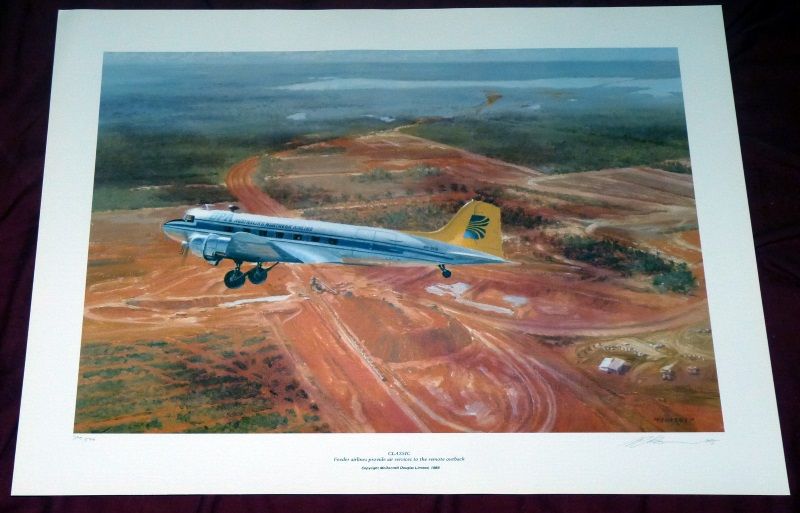 … and finally.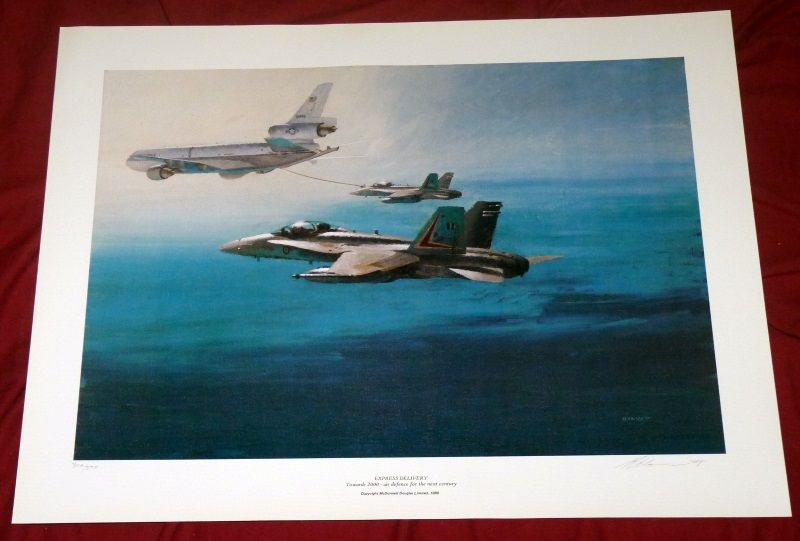 Not bad for about $110 in today's money !
Appliance
Forum Posts: 394
Member Since:
June 30, 2005
Offline
Gentle viewers … time for a little audience participation.
Being on a pension has its drawbacks.  However around Christmas time I receive a dividend on a modest shareholding. In the past two years that has been expended on important living matters. Happily this year, however, it can be considered for discretionary purposes.
Unsurprisingly I am thinking of providing work for the two framers in Ballina.  One each as a sort of a test. Each will also be given the task of re-glazing my damaged prints.
This is where you can help.  From my collection of unframed art shown earlier in this thread what would be your two choices to be framed?  Although not essential I also would welcome your comments behind your choices.
Hope you accept this invitation … I will be most grateful. Should provide some fascinating and thought-provoking reading if you care to contribute.
Now, over to you. 
Taylorprints
Forum Posts: 273
Member Since:
February 10, 2008
Offline
JC
Forum Posts: 642
Member Since:
August 13, 2008
Offline
Appliance
Forum Posts: 394
Member Since:
June 30, 2005
Offline
fuzzy
Forum Posts: 3313
Member Since:
March 4, 2005
Offline
Tough call among the unframed prints – so many great ones…
I would frame:
Robert Taylor "Return To Duxford"
WSP "When Prayers Are Answered"
Catch me on a different day and I might substitute John Shaw's "Summer of '42", Gil Cohen's "Eyes of the Eighth", Mark P's "Bismarck Into Battle"
Appliance
Forum Posts: 394
Member Since:
June 30, 2005
Offline
Rolex5513
Forum Posts: 735
Member Since:
September 21, 2007
Offline
Boy that was a great two hours! What a collection just outstanding.
I vote for the two Mark Postlethwaithe prints Aww Hell I have em both and cant remember the names
Tirpitz Mission Accomplished
And the multi-signed print of the Kriegsmarine in the Norwegian Fjord
Bismarck into Action/Battle? sorry
Again thank you for sharing, I went through a horrible divorce then got laid off after 20 years at the same job. Hell of a think to lose your wife, house, money, possessions, job abd self respect. That's where I am trying to claw out. Seeing other amazing collections
renews my energy to push forward!
and you mentioned depression I get it hell Im deep in it right now.
Pat
Rolex
fuzzy
Forum Posts: 3313
Member Since:
March 4, 2005
Offline
It's always great to see such an interesting thread reappear on the home page.  I've gone through it again in detail.  We have a fair amount of overlap on the Taylors, but not too much among the other prints, which I like because I get to see a lot of new images. 
I also posted my RT "Night Interceptor" in the companion print thread.  Just days ago I had a friend contact me eager to buy it.  I'm pretty attached to my RT companion prints, and didn't want to sell.  Brian, I don't know if you're in the mood to sell, but PM me if you are and I'll put you in touch with a motivated buyer!
Appliance
Forum Posts: 394
Member Since:
June 30, 2005
Offline
Hello kind folks.
After posting this thread I fell once again into depression, only this time much worse. 
I have also been diagnosed with Parkinson's, medication to alleviate the shaking unfortunately conflicts with another.  So … I'm physically unable to rotate my framed artworks.  You will realise just how frustrating that is to a collector.
Thanks to Sunny and eHangar this is now the only means available through which I can, once again, enjoy my collection.  Moral … don't grow old! 
All the very best to the membership of eHangar.
fuzzy
Forum Posts: 3313
Member Since:
March 4, 2005
Offline
Brian,
I'm very sorry to hear about your health challenges.  When it comes to medications, they all have side effects, and combining medications can get very complicated.  There is almost always more than one drug to treat a condition, and a different pairing may work much better for you.  Continue to press your doctor – or get a second opinion – to find medications that will work for you.
Perhaps there is a local volunteer organization, or one that exists to help people with Parkinsons, who can lend a helping hand.  I'll bet you can find some help in taking care of the challenges you face, and may even be able to lend a few minutes to rotate some pictures for you!
Wishing you the best!
Kurt
Appliance
Forum Posts: 394
Member Since:
June 30, 2005
Offline
Kurt please forgive my VERY tardy reply to your most helpful post.
After a number of false starts I have finally been able to secure an appointment with my cardiogist who simply confirmed what I already knew.  There is a conflict of medications.  Since then I have arranged an appointment, next March, to see a specialist neurologist who may be able to prescribe non-conflicting medication(s).  One of the downsides of living in a rural area of NSW is that specialist care is not readily available.
I have ascertained we do indeed have a Parkinson's support group. It meets every two months and has 3 members.  I have yet to establish contact.  It is difficult for me,being by nature a private and self-reliant person,to accept that may not always be the case. Anyway another journey has commenced.  
Again Kurt many thanks for your kind thoughts and suggestions.  They are very much appreciated.
fuzzy
Forum Posts: 3313
Member Since:
March 4, 2005
Offline
Appliance
Forum Posts: 394
Member Since:
June 30, 2005
Offline
As I can't afford Photobucket's fees I figured it better to go out with a blaze of glory by bringing this thread front-and-centre where newer subscribers would have one last opportunity to view my collection before emaciation.
I, too, am near the end and it is only fitting that I thank Sunny and all the gang, for their friendship and knowledge sharing which so enriched my collecting life.
Salute'
Most Users Ever Online: 85
Currently Online:
13 Guest(s)
Currently Browsing this Page:
2 Guest(s)
See All Online Activity
Members Birthdays
Top Posters:
Wade Meyers: 2177
Russell Smith: 1662
SteveH: 1357
Brian Bateman: 1234
Frenchie: 1182
falcon012: 1131
Daz: 1033
NeilF92: 986
paletteone: 955
Steven6095: 857
Newest Members:
testingac
wojk
freddythefrog
Forum Stats:
Groups: 11
Forums: 45
Topics: 5564
Posts: 55845
Member Stats:
Guest Posters: 606
Members: 1572
Moderators: 5
Admins: 1
Moderators: fuzzy, Stormchaser, Charles McHugh, Blacksheep, Guss